Hot, fresh homemade pizza made for weeknights! This is one of my boys favorite homemade pizzas! This recipe makes the perfect amount of from-scratch, yeast pizza dough and pizza sauce for a 12-inch pizza. I always double the recipe and freeze the other pizza in individual slices for quick lunches.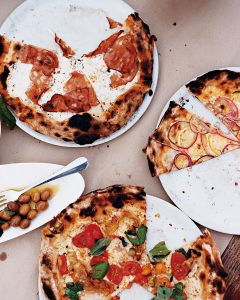 Given my obsession with sourdough baking, doesn't it figure that I would include a sourdough pizza crust recipe here? You bet! And predictably I think it's fit for the Gods.
This recipe is a sourdough variation on our standard pizza dough recipe, and for those who are used to baking with instant yeast, may take a little getting used to because of the addition of the sourdough starter. If you haven't worked with sourdough before, you're facing a bit of a learning curve (a very worthwhile learning curve and we have you covered on all things sourdough). But if you're already baking bread with it, then you'll find this recipe almost as easy as the one linked above. The standard pizza post also contains a bevy of tips and tricks that you can equally apply to this sourdough variation.
More elaborate recipes may coax more flavor from the grains and possibly improve on the texture and consistency of the crust. But as with the no knead bread recipes, I think this pizza recipe and method strikes a great balance of time, effort and quality that's suited to the typical harried lifestyle we tend to live.